Administrators – Users – Recent changes – New pages – New files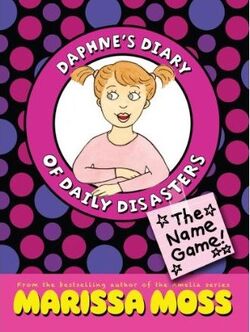 Daphne's Diary of Daily Disasters Wiki is using MediaWiki version 1.19.24.
There are 12 articles, and 284 pages in total.
There have been 444 edits.
There are 19 uploaded files.
There are 1 active users in this wiki, including 2 administrators.
Daphne's Diary of Daily Disasters Wiki is a fan-created wiki about the book series by Marissa Moss. There are currently three books with plans for a new one soon. The series is spun-off of Amelia's Notebooks, also by Marissa Moss.
The books are published by Simon & Schuster. The project was started on September 27, 2012 by Samanthafan09.
Ad blocker interference detected!
Wikia is a free-to-use site that makes money from advertising. We have a modified experience for viewers using ad blockers

Wikia is not accessible if you've made further modifications. Remove the custom ad blocker rule(s) and the page will load as expected.